Products boasting unrivaled quality
Quality Policy
"We provide customers with the ultimate in quality and
reliability through our tireless efforts to outdo ourselves in quality."
Quality Principles
1. Give top priority to the notion of "quality first"
1. Quality and reliability are created during all processes
1. Adopt "San Gen Shugi (Three Realities Principle; i.e. visit the site, make direct observations, and determine the facts)" as guidelines for action
1. Our products are quality and technology
当社製品の品質は、卓越した精度を誇る自社金型に裏付けられています。蓄積されたノウハウと優秀な技能者達の手による高度な技術が、SUZUKI製品のより確かな信頼性を実現しています。
また、現場に立つ社員の一人一人に、当社の持つ、品質への高い意識が浸透しており、「品質は工程内で作り込む」のモットーの通り、工程内から積極的な品質実践を行っています。各グループは、品質改善テーマを掲げ、実践状況を毎月開催される品質検討会議にて報告し討議され、改善活動を推進しています。
こうした品質実践をバックアップし、より確かなものへと高めているのが工程内全数検査装置と、コンピュータによる検査工程の自動化です。人の可視能力をはるかに超えた、精密な検査を行うことにより、さらに確実なゼロディフェクト体制を確立しています。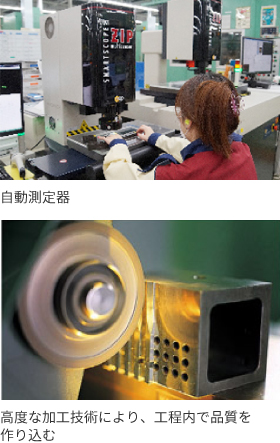 The quality of our products is underpinned by our company's dies, which boast outstanding precision. Our advanced technologies, the result of years of accumulated know-how and the expertise of our superlative technicians, are what give SUZUKI products even greater reliability.
In addition, each and every employee on the ground possesses a thorough awareness of our emphasis on quality, taking an active stance in putting quality into practice at all stages of their work with the motto, "Quality is created during all processes." Each group engages in activities to make improvements by proposing a theme for quality improvements, and then reporting on and discussing the progress of their activities at monthly quality investigation meetings.
This quality is backed up and further enhanced by total inspection devices along with automatized inspection processes via computer. By performing precise inspections that far exceed the capabilities of the human eye alone, we have established a robust zero-defect system.