Lead-Free N2 Reflow Oven SRF8225NⅡ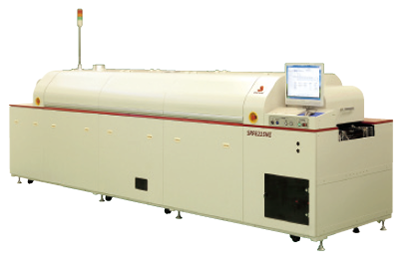 Feature
Low Nitrogen Consumption
Powerful Heating / Cooling Capability
New System for Countermeasure against Flux
Energy Saving Design (Low Running Cost)
■Low Nitrogen Consumption
SRF8225NⅡ realizes unmatched 150L/mim of nitrogen consumption at 500ppm or above due to Suzuki's unique design in airtight structure and prevention of airflow disorder.

■Low Electricity Consumption
The 8 heating zone reflow oven only consumes approximate 7kw to 10kw of electricity in real board handlings because of its high-insulated structure against the heat.

Heating/Cooling Capability (Powerful Heating/Cooling Capability Plus Temperature Uniformity)

SRF8225NⅡ, equipped with newly designed heat air blowing panels that generate epoch-making and uniform airflow quality and offer powerful heating capability, assures more flexibility and repeatability in temperature profile performance even on boards with high thermal capacity and thus realize the world- class low ΔT. The reflow oven also possesses powerful cooling capability with a new cooling system (upper and lower side) in the last 2 zones.
Lower than ΔT2°C

・250×330×1.6(mm)
・FR4 plate
・7 points inspected, 10mm from the edge of the plate
Countermeasure against Flux (Extended Maintenance Cycle)

■Flux Resolution by Catalyst
Equipped with the resolution function of flux by catalyst, SRF8225NⅡ resolves heavy bicarbonate hydrogen, which is source of stickiness and dirt inside the zones.

■All Zone Flux Collection System
Water-cooling flux collection system in each zone enhances efficiency in collecting flux.
Adoption of Titanium Conveyor Rails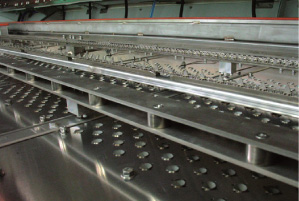 Use of titanium conveyor rails made by water jet process offers excellent heat resistant to minimize warps on the conveyor rails. Their hollow structures also contribute to achieving the low ΔT.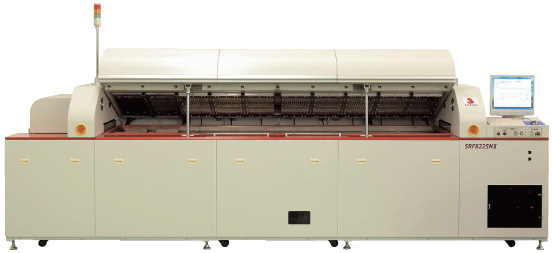 Standard Functions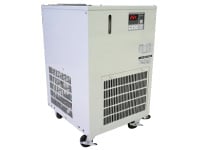 ■Water-cooling Chiller
Water-cooling unit is installed in each cooling zone to chill boards sharply under stable nitrogen atmosphere.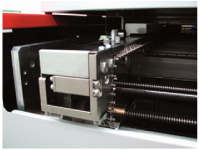 ■Board Transfer Rollers
Board transfer rollers assist small boards to be transferred to/from other in-line SMT equipments.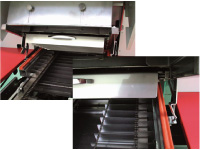 ■Adjustable Board Entrance/Exit Labyrinth System
(Upper side:10,15,20,25mm / Lower side:15,20,25mm)
Adjustable board entrance/exit labyrinth system serves to minimize outflow of N2 gas from the oven.
Options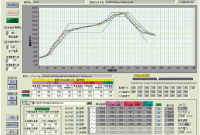 ■Temperature Profiler
A state of art 7 channel temperature profiler is selected as an option, which provides instant "Pass/Fail" judgment on set reflow condition, a real-time temperature indicator and template as well as full report on each channel, automatic calculation of ΔT, and automatic start/end measurement function. The profile screen that holds fundamental data such as thermal condition and conveyor speed can be saved as data for easy production management.

■Automatic Adjustment of Conveyor Width
Computer-controlled automatic adjustment of conveyor width is available as an option to reduce changeover time in many-kinds low-volume production.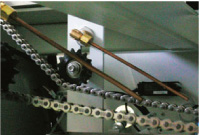 ■Automatic Conveyor Chain Oil Dispenser
Computer-controlled automatic lubrication on conveyor chains offers hands-off maintenance.

■Peak Electricity Reduction System
Peak electricity consumed during warm-up can be reduced by Suzuki's unique power control system.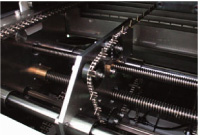 ■Board Warp Prevention System

■UPS
UPS supplies electricity to unload boards out of oven at power failure in factory.
SPECIFICATIONS
Dimensions
4,446(L)×1,090(W)×1,350(H)mm (Excluding Projection)
Conveyor Height
900±30mm
PCB Size
40×50~250×330mm
Mounted component height: ±25mm
Zone
Heating: 8 zones
Cooling: 2 zones
PCB Holding
3mm from PCB edge
Controller
PLC (Main) PC (Display, Operation, and Profiler)
Utilities
Air Supply : 0.5MPa Clean and Dry Air
N2 Gas Supply: 0.5MPa (max: 150 /min.)
Power Supply
3 phases 200V±10V 50/60Hz 35kVA
Weight
Approx. 1,500kg
Zone Configuration

Size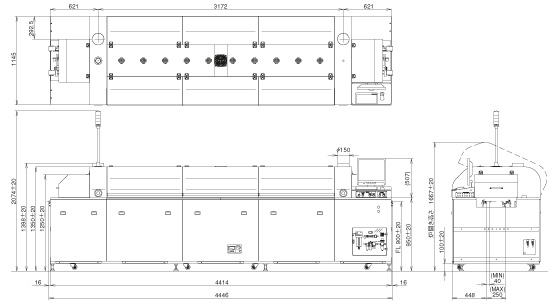 High Speed Dispenser CPD-1000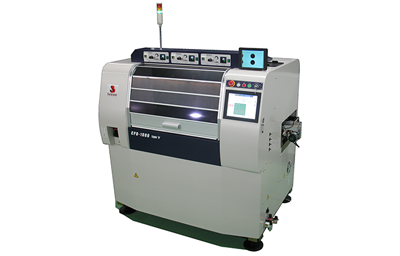 Feature
Achieves Dispensing Tact Time at 0.07sec/shot.
Continues High Precision Dispensing by Reliable Structure.
Meets Wider Dispensing Needs with Variety Options.
SPECIFICATIONS
PCB Size
50×50~460×360mm (~510×460mm (VL)) t=0.3~4.0mm (less than 0.5mm:option)
Syringe
Capacity 30cc
Dispense Head
3 Heads
Kind of the nozzles
Twin Nozzle (Small, Medium, Large)
Dispensing Accuracy
±0.10 mm
Dispensing Tact Time
0.07 sec / dot (at optimum condition)
Dispensing Rotation
0°±90° (1°step)
Dispensing Condition Settings
240 programmable channels
Remaining Adhesive
Low Level Warnin
By Sensor
PCB Positioning
Alignment Mark Recognition (Standard)
Conveyor Width
Automatic (Standard)
Power Supply
Single phaze 200, 220, 230, 240V ±10% 50/60Hz
3.0kVA.
Air Supply
0.5MPa Clean and Dry Air
LED flip-chip mounting device BDM-1000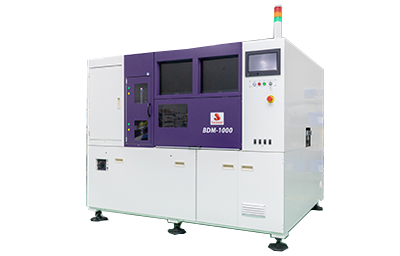 Features
Flip-chip mounting through innovative direct wafer
Next generation rapid productivity which far outperforms existing bonders
First ACP batch wafer transfer system in the world
Mini LED compatible
Self-alignment control through optimization of ACP membrane